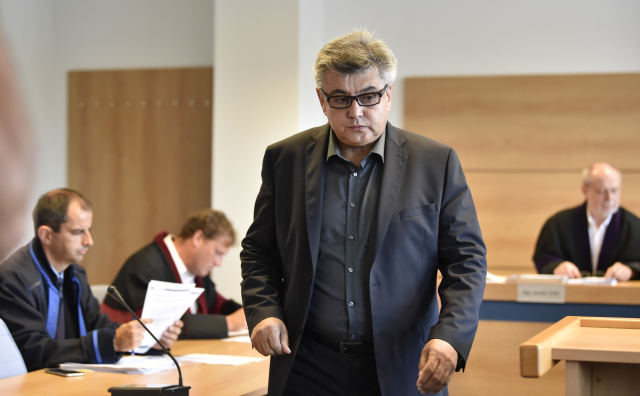 Před zlínským krajským soudem včera v kauze únosu ženy z Kroměříže z roku 2014 vypovídal v pozici svědka Michal Šnajdr, který byl v minulosti v případu neprávem odsouzen k deseti letům vězení a část trestu si i odpykal. Hovořil o návrhu na obnovu řízení z roku 2018, v němž prostřednictvím svého advokáta Roberta Cholenského poukazoval na jména možných pachatelů únosu, kteří jsou za něj nyní skutečně stíháni. Za viníky svého trestního stíhání Šnajdr opět označil bratry z Kroměříže. Své někdejší zapletení do kauzy vnímá jako mstu.
Podle Šnajdra se informace podařilo získat analýzou materiálů, které byly ve spisu. Telefonní čísla obžalovaných byla podle něj v době únosu aktivní na místech, kde se stal. Zmínil i údaje ze sociální sítě, jež muže, kteří jsou nyní v kauze obžalovaní, propojují. Za viníky svého trestního stíhání Šnajdr opět označil bratry z Kroměříže. Jeden z nich je policista, druhý podnikatel, s jehož ženou měl Šnajdr podle svých slov poměr. Své někdejší zapletení do kauzy proto vnímá jako mstu. "Způsob vedení obhajoby v tomto případě je pro mě ponižující," řekl Šnajdr, který byl k soudu předvolán na žádost advokáta jednoho z obžalovaných.
Před soudem dnes vypovídal také Šnajdrův kamarád, jenž se zmíněným podnikatelem z Kroměříže, který dříve u soudu o obou těchto mužích vypovídal jako o možných pachatelích únosu, do roku 2012 spolupracoval. "Byly to obchody s chudobou, mně se to nelíbilo, tak jsem šel pryč. A od té doby začaly problémy," řekl svědek. Stejně jako Šnajdr tvrdí, že s únosem nemá nic společného. S rodinou unesené ženy i s ní samotnou se znali.
Podle státního zástupce Martina Malůše se na únosu podíleli Tomáš Salvet, Ivo Lorenc, Jakub Steidl, Vladimír Zavadil a Ladislav Faltýnek, kteří po mladé ženě žádali 100 milionů korun. Za loupež, neoprávněné opatření, padělání a pozměnění platebního prostředku a krádež jim hrozí osm až 15 let vězení. Zatímco Salvet, Lorenc a Steidl vinu popírají, Zavadil s Faltýnkem se k podílu na únosu doznali.
Loni v září v kauze zazněly závěrečné řeči, na říjen plánoval trestní senát Jiřího Dufka vynesení rozsudku. Jednání však následně zrušil a vrátil věc do dokazování, které bude pokračovat 28. března. Zaznít by měly svědecké výpovědi otce unesené ženy, který obchodoval s pohonnými hmotami a skončil ve vězení kvůli daňovému úniku, a také advokáta Cholenského.
Státní zástupce v zářijové závěrečné řeči Salvetovi navrhl deset až 11 let, Lorencovi devět až deset let a Steidlovi osm až devět let vězení. Jejich obhájci žádají zproštění obžaloby. V případě Faltýnka a Zavadila navrhl žalobce změnu právní kvalifikace, v takovém případě by jim hrozilo pět až 12 let vězení. Oběma mužům Malůš žádá uložit tříletý trest odnětí svobody s podmíněným odkladem na zkušební dobu pěti let, s čímž jejich advokáti souhlasí.
Muži podle obžaloby ženu unesli 14. ledna 2014 večer v Kroměříži. Podle žalobce jí sebrali kabelku s peněženkou i doklady a další věci, načež ji v noci autem vozili po různých místech a žádali po ní peníze. Její martyrium skončilo poté, co se s únosci dohodla, že jim přiveze 100 milionů korun na čerpací stanici u Brna, uvádí obžaloba. Brzy ráno následujícího dne ji vysadili u Vrbky na Kroměřížsku, odkud si zavolala pomoc. Žena utrpěla lehká zranění.
(čtk)