Přinášíme přehled vybraných kauz ze zahraničních periodik z uplynulého týdne.
Prokurátor mezinárodního trestního soudu zahájil vyšetřování válečných zločinů proti Ukrajině / Nizozemsko
Prohlášení prokurátora:
Minulý pátek jsem vyjádřil své narůstající znepokojení nad událostmi, které se odehrávají na Ukrajině, v souladu se zájmy světových vůdců i občanů celého světa.
Dnes bych rád oznámil, že jsem se rozhodl co nejrychleji zahájit vyšetřování situace na Ukrajině.
Ukrajina není smluvní stranou Římského statutu Mezinárodního trestního soudu (dále jen "ICC" nebo "Soud"), takže sama nemůže situaci předat mému úřadu. Dvakrát však využila své výsady právně přijmout jurisdikci soudu nad údajnými zločiny podle Římského statutu, ke kterým došlo na jejím území, pokud by se ji soud rozhodl uplatnit. První prohlášení podané vládou Ukrajiny akceptovalo jurisdikci Mezinárodního trestního soudu s ohledem na údajné zločiny spáchané na ukrajinském území od 21. listopadu 2013 do 22. února 2014. Druhé prohlášení prodloužilo toto časové období na dobu neurčitou tak, aby zahrnovalo pokračující údajné zločiny spáchané po celou dobu na území Ukrajiny od 20. února 2014.
Přezkoumal jsem závěry úřadu vyplývající z předběžného zkoumání situace na Ukrajině a potvrdil jsem, že existuje rozumný základ pro zahájení vyšetřování. Zejména jsem spokojen s tím, že existuje rozumný důvod se domnívat, že na Ukrajině byly spáchány jak údajné válečné zločiny, tak zločiny proti lidskosti v souvislosti s událostmi, které již byly posouzeny během předběžného zkoumání Úřadem. Vzhledem k rozšíření konfliktu v posledních dnech je mým záměrem, aby toto vyšetřování zahrnovalo také jakékoli nové údajné zločiny spadající do jurisdikce mého úřadu spáchané kteroukoli stranou konfliktu na jakékoli části území Ukrajiny.
Už jsem pověřil svůj tým, aby prozkoumal všechny možnosti uchování důkazů. Dalším krokem je pokračovat v procesu hledání a získání povolení od vyšetřovacího senátu soudu k zahájení vyšetřování. Alternativní cestou stanovenou ve statutu, která by mohla záležitosti dále urychlit, by bylo, že by smluvní strana ICC postoupila situaci mému úřadu, což by nám umožnilo aktivně a okamžitě pokračovat v nezávislém a objektivním vyšetřování úřadu.
Budu také žádat o podporu všechny státy, které jsou smluvní stranou této úmluvy, a mezinárodní společenství jako celek, když můj úřad zahájí svá vyšetřování. Budu žádat o dodatečnou rozpočtovou podporu, o dobrovolné příspěvky na podporu všech našich situací a o zapůjčení personálu zdarma. Důležitost a naléhavost naší mise je příliš vážná na to, abychom ji drželi jako rukojmí nedostatku prostředků.
Budu i nadále pozorně sledovat vývoj na Ukrajině a opět vyzývám ke zdrženlivosti a přísnému dodržování platných pravidel mezinárodního humanitárního práva.
---
Pro další podrobnosti o "předběžných šetřeních" a "situacích a případech" před Soudem klikněte zde a zde .
Zdroj: International criminal court
---
Ashutosh Kaushik: indický herec bojující za "právo být zapomenut"/ Indie
Jak dlouho byste měli být potrestáni za chybu?
To je podstata petice indického herce a celebrity z reality show Ashutoshe Kaushika, kterou projednává vrchní soud v Dillí.
Herec chce, aby mu soud přiznal "právo být zapomenut" s tím, že jeho život je stále držen jako rukojmí chyby, které se "chybně dopustil před více než deseti lety".
Odborníci říkají, že "právo být zapomenut" – nebo "právo na vymazání" – je jednoduše právo na odstranění vašich veřejně dostupných osobních údajů z internetu. Ačkoli je toto právo uznáváno v Evropské unii – kde není absolutní – v Indii je to poměrně nový koncept, na který se zákon nevztahuje.
Kaushik se dostal na titulky, když v roce 2007 vyhrál pátou sezónu reality show MTV Roadies a o rok později Bigg Boss – velmi populární indickou verzi Big Brother.
Říká, že výhry mu vynesly "pochvaly, lásku a uznání lidí z celé Indie".
Ale sláva ustoupila hanbě, když byl o rok později přistižen při řízení pod vlivem alkoholu.
Soud mu nařídil zaplatit pokutu 2 500 rupií (33 $; 25 $) a jeho řidičský průkaz byl na rok pozastaven. Bylo mu také nařízeno zůstat u soudu až do konce dne.
Incident se dostal do titulků, protože byl celebritou. Zprávy, fotografie a videa toho, co se stalo, stále zaplňují web a každý, kdo hledá herce, je může najít.
Říká, že ho to přišlo draho – jak osobně, tak pracovně.
Více na BBC
---
Avast varuje uživatele před kryptografickými podvody využívajícími konflikt na Ukrajině/
Bezpečnostní experti Avastu odhalili podvodníky, kteří se vydávají za ukrajinské státní příslušníky postižené současným konfliktem a požadují bitcoiny na sociálních sítích.
Vyjádření AVAST:
Avast je hluboce zarmoucen ukrajinsko-ruskou situací. V obou zemích máme zaměstnance a zákazníky a situaci velmi pozorně sledujeme. Prioritně se zaměřujeme na zajištění bezpečnosti našich lidí a na poskytování podpory a pomoci, kterou oni a jejich rodiny v této náročné době potřebují. Jsme také odhodláni udržovat naše služby a produkty pro naše uživatele tam, kde je to možné, a náš tým pro analýzu hrozeb pracoval na rychlé identifikaci nových hrozeb, které vznikají v důsledku konfliktu.
Zatímco se kyberzločinci snaží využít chaosu, za posledních 48 hodin jsme sledovali řadu podvodníků, kteří lstí lidi o peníze předstírají, že jsou Ukrajinci, kteří zoufale potřebují finanční pomoc. V minulosti jsme viděli podobné podvody pro lidi, kteří uvízli na cestách nebo při hledání lásky. Bohužel tito útočníci nepracují eticky a využijí každou příležitost, jak z lidí ochotných pomoci druhým v nouzi získat peníze. Podezřelá je okamžitá zmínka o Bitcoinu, stejně jako uživatelská jména, která se skládají pouze z písmen a číslic.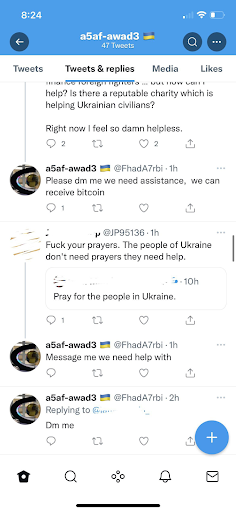 ESET také ohlásil další podvod webové stránky žádající lidi o podporu nákupem "UkraineTokens".
Více na AVAST
---
Biden nominuje Ketanji Brown Jackson jako první černošku, která usedne do Nejvyššího soudu / USA
Prezident Joe Biden v pátek nominoval Ketanji Brown Jackson do Nejvyššího soudu , čímž zahájil historický proces potvrzení pro první černošskou ženu, která usedne do nejvyššího soudu v zemi.
"Dnes, když sledujeme svobodu a svobodu pod útokem v zahraničí, jsem tady, abych splnil své povinnosti podle ústavy, abych zachoval svobodu a svobodu tady ve Spojených státech amerických," řekl Biden v Bílém domě, když Jacksona představoval. "Příliš dlouho, naše vláda, naše soudy nevypadaly jako Amerika," řekl Biden. "Věřím, že je čas, abychom měli soud, který odráží plný talent a velikost našeho národa s kandidátem mimořádných kvalifikací, a že inspirujeme všechny mladé lidi, aby věřili, že mohou jednoho dne sloužit své zemi na nejvyšší úrovni."
Více na CNN