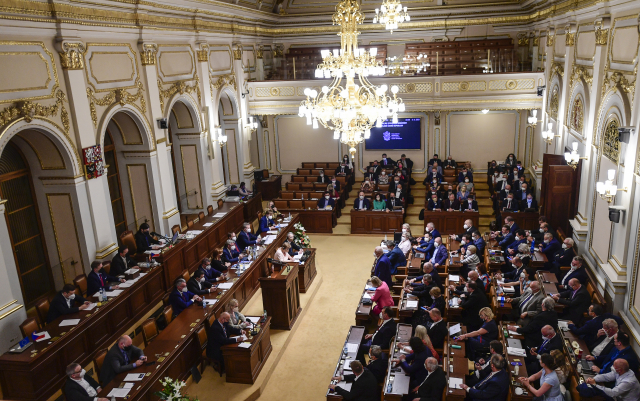 V oblasti práva a spravedlnosti zvládla současná vláda prosadit novelu zákona o soudech a soudcích, za což ji chválí Soudcovská unie. Naopak se nepodařilo předložit nový trestní řád ani schválit slibované změny ve státním zastupitelství, upozornila Unie státních zástupců. Ohledně boje s korupcí a dodržování principů právního státu kabinet Andreje Babiše (ANO) podle protikorupčních organizací selhal. ČTK to sdělili zástupci oslovených subjektů.
Změny zákona o soudech a soudcích, které budou účinné od začátku příštího roku, zavádějí jednotný systém výběru soudců a soudních funkcionářů. Mimo jiné zakazují opakované jmenování předsedů soudů. Prezident Soudcovské unie Libor Vávra ocenil, že při přípravě novely ministerstvo spravedlnosti "férově" komunikovalo se zástupci justice a konečný návrh byl výsledkem dohody. "Je ale důležité, aby se do konce roku podařilo dokončit práce na souvisejících podzákonných předpisech," podotkl.
"V končícím volebním období Poslanecké sněmovny se posunuly přípravné práce na novém trestním řádu, finální podoba však stále chybí. Žádná novela zákona o státním zastupitelství se do legislativního procesu nedostala. Oba úkoly tu zůstávají pro novou vládu a Poslaneckou sněmovnu," zrekapituloval viceprezident Unie státních zástupců Ondřej Šťastný.
Podle Vávry však politici nemají o změnách ve státním zastupitelství jasnou představu. "To, že věc zamrzla na mrtvém bodě, je inteligentní remíza," prohlásil. Nezpracování nového trestního a občanského soudního řádu je podle něj škoda. Podotkl, že na rekodifikaci by měly pracovat i politické strany, které momentálně nejsou u moci. "Na změnách vedoucích ke zjednodušení, zrychlení a zlevnění řízení by měl být obrovský politický konsensus. Když je prosadí jen jedna vláda, bude to k ničemu," poznamenal.
Ruku v ruce s novými procesními předpisy by podle něj měla jít I slibované elektronizace justice. "Tady ministerstvo nabralo hrozný skluz, ale již dlouho před touto vládou. Jako Česko běžíme za vozem," upozornil.
Protikorupční organizace vládu za její působení ostře zkritizovaly. "Za poslední čtyři roky nebyl Babišův kabinet schopen přijmout ani jeden klíčový protikorupční zákon. Vše se promítá jak do sestupu ČR v rámci Indexu vnímání korupce Transparency International (TI), tak i do negativních hodnocení GRECO či EU. Boj s korupcí je tak pouze marketingovou floskulí v předvolební kampani," napsal ČTK Petr Leyer, ředitel české pobočky TI.
Vláda podle něj konkrétně nikam neposunula kromě zákona o státním zastupitelství také například ochranu oznamovatelů korupce či regulaci lobbingu. "Drobné pokroky udělala jen v oblasti regulace exekucí, novelizací zákona o soudech a soudcích nebo přijetím nominačního zákona," doplnil. Nominační zákon upravuje výběr lidí do řídících a dozorčích orgánů firem s majetkovou účastí státu.
Rekonstrukce státu i Nadační fond proti korupci upozornily na stejné nepřijaté zákony jako TI. První z nich připomněla, že vládní návrh novely zákona o státním zastupitelství leží už dva roky na vládě a že ho ministryně spravedlnosti Marie Benešová (za ANO) "veřejně odpískala". Projednání poslanecké novely zase zablokovali poslanci ANO, SPD a KSČM.
Proklamovaný vládní boj s korupcí připomíná podle vyjádření Rekonstrukce státu spíše jemné pošťuchování. "Příležitostí k projednání protikorupčních zákonů přitom bylo habaděj, a odpovědnost za tristní stav tedy nesou primárně poslanci vládních ANO a ČSSD, kteří měli spolu se svými spojenci z KSČM ve Sněmovně většinu, a mohli tedy projednání zákonů včas zajistit," napsala.
"Jediné, v čem si vedla současná vláda výborně, je korupce," míní právní expert protikorupčního fondu Ondřej Závodský, podle nějž se korupce v uplynulém volebním období "dostala na úplně nový stupeň". "V oblastech jako důvěra běžných občanů v právní stát, justici atd. jsme se logicky hluboko propadli. Protikorupční legislativa se nikam nepohnula, ověřené nástroje protikorupčního boje se nezavedly a nezbytné změny ke ztransparentnění justiční činnosti a zkvalitňování výkonu veřejné správy se neprovedly," shrnul.
Za dílčí úspěch vlády lze podle něj považovat to, že se podařilo dokončit několik legislativních textů. "Nicméně bez jejich prosazení je to vítězství Pyrrhovo," podotkl právník.
Z cílů obsažených v programovém prohlášení vlády se podařilo schválit změny v exekucích, které obsahují i zastavování bezvýsledných exekucí. Závodský to však označil za "zoufalý a nedostatečný paskvil". Zmírnily se také podmínky pro dosažení oddlužení. Zákonodárci přijali i nový zákon o znalcích, který se ale zatím v praxi příliš neprojevil, protože stále neexistují registry znalců a jejich úkonů, s nimiž zákon počítá. Podařilo se také spustit elektronický monitoring odsouzených, doprovází ho však problémy s dodavatelem. Ministerstvo spravedlnosti připravilo rovněž tzv. lex covid justice, který ve dvou vlnách reagoval na pandemickou situaci – mimo jiné chránil podnikatele před insolvencí.
(čtk)